Architectural Fiberglass Piers by Stromberg
They say that diversity is the spice of life; this maxim is just as true in architectural design. Patterns are a critical design element, but repetition is tantamount to raw industrialized soullessness. Balustrades, for example, are a fantastic way to beautify an external wall or gate, but the repetition of the same railing is dull. Fortunately, GFRP piers from Stromberg Architectural Products help solve this problem by providing much needed diversity to patterned balustrades, gates and walls.
Leading the World in Architectural Fiberglass Piers
Stromberg Architectural Products is the world's leading manufacturer of GFRP piers. They have the widest selection of stock pier patterns making it easy for customers to choose their favorite design and have it shipped to their location. However, you don't get to be the best by limiting your customers' decisions. When it comes to GFRP piers by Stromberg, the sky is the limit. If you can dream it, they can build it. Patrons who want to order custom GFRP piers will be put in contact with one of the master craftsmen at Stromberg and together they will work to design the perfect pier.
Architectural Fiberglass Piers are Practical and Attractive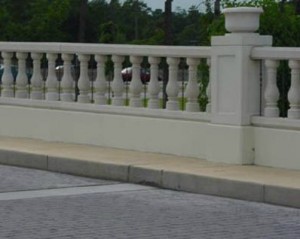 Not only are the architectural fiberglass piers from Stromberg Architectural Products attractive, they are also incredibly practical. Typically, piers are made from traditional building materials like stone or concrete, however, these materials are incredibly heavy, difficult to install and prone to damage. Architectural fiberglass piers  help solve these problems. Architectural fiberglass is an extremely resilient compound that is resistant to elements like wind and rain, and can even stand up to tougher corrosives like acid rain and smog. Architectural fiberglass won't rot, rust, corrode or delaminate over time; its smooth surface is easy to clean if it is marked or stained, making it the perfect compound for your piers.
Features and Benefits of GFRP Piers
Architectural fiberglass piers by Stromberg are easy to install.
Architectural Fiberglass is extremely strong and durable, yet light-weight
Stromberg GFRP is resistant to water damage, rot and mildew.
Work with an expert Stromberg artisan to custom design your GFRP piers
The Stromberg Promise
The artisans at Stromberg Architectural Products will work closely with you throughout the process to make sure your finished architectural fiberglass piers are made perfectly to your specifications.
Stromberg is here to help with CAD details, design assistance and specifications. Contact them today at (903)454-0904 for a free custom quote and get started designing your GFRP pier.
By: Rachel Curling