Governmental Barrel Vaulting in Architectural Fiberglass
Barrel vaulting is an ancient architectural element that dates all the way back to Ancient Egypt and Mesopotamia. Similar to an interior dome, barrel vaulting opens up a space by enhancing the ceiling with a feeling of airiness or lightness; instead of bearing down on the room's occupants, barrel vaulted ceilings seem to reach up towards the heavens. However, unlike an interior dome, barrel vaulting can run any length, and is not restricted to a circular shape.
Barrel Vaulting Evokes Feelings of Significance and Grandeur
Barrel vaulting opens up a room, and makes it feel bigger than it really is. This effect imbues a room with an air of importance, and the scale of a room with barrel vaulted ceilings can seem to dwarf the room's occupants, which can impart a feeling of being in the presence of an entity bigger than any single individual. This is an effective means of setting the mood for government buildings and churches.
Architectural Fiberglass Puts Grandiose Barrel Vaulting within Your Grasp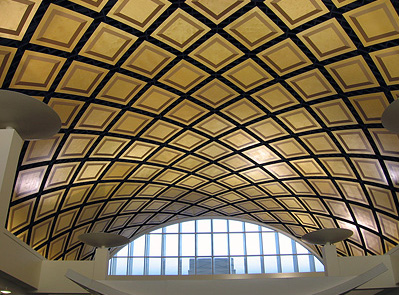 Barrel vaulting can do a lot to enhance an important room, but it is historically expensive due to the extensive amount of architectural planning and pricey building materials that it requires. Fortunately, barrel vaulting no longer has to be made from masonry, because the master craftsmen at Stromberg Architectural Products have developed a means of fabricating barrel vaulting out of architectural fiberglass. Architectural fiberglass is a remarkably versatile and light-weight material that can be manipulated to emulate just about any building material. Whether you want your granite or marble barrel vaulting, architectural fiberglass can imitate expensive building materials at a fraction of the price.
Architectural Fiberglass Barrel Vaulting is Easy to Install and Maintain
One of the things that makes architectural fiberglass so affordable, is that it requires very little architectural support. With heavy building materials like stone or brick, architects have to plan to accommodate a huge amount of extra weight, and they also have to hire expert masons and stonecutters to work with these finicky materials. Architectural fiberglass, on the other hand, requires very little in the way of architectural support, and does not require on-site experts for installation. Furthermore, architectural fiberglass hardly requires any maintenance, and can go for years without being touched. Between the simplicity of installation and the ease of maintenance, architectural fiberglass barrel vaulting is perfect for government buildings.
Features and Benefits of Architectural Fiberglass
Architectural fiberglass is light-weight and highly customizable.
Stromberg's master craftsmen will work with you to fabricate unique barrel vaulting that is sure to impress.
Architectural fiberglass requires very little in the way of support, and it is easy to install and maintain.
The Stromberg Pledge to You
The artisans at Stromberg Architectural Products will work closely with you throughout the process to make sure your finished architectural fiberglass barrel vaulting is made perfectly to your specifications.
Stromberg is here to help with CAD details, design assistance and specifications. Contact them today at (903)454-0904 for a free custom quote, and put their 30 years of experience to work for you.
By: Rachel Curling