Architectural Fiberglass Benches for Interior or Exterior Use
There is nothing quite as classic as a stone bench in a park or next to a walking trail. Such timeless, simple public furniture provides welcome respite to the weary, while also enhancing the visual beauty of the scenery. Stromberg Architectural Products offers a wide variety of benches made from architectural fiberglass, or GFRP, which look just like stone, but at a fraction of the cost and weight.
Stromberg GFRP Benches Last a Lifetime; Permit Flexibility
One of the major drawbacks of a stone bench is that once it has been placed, it is not likely you would want to go through the trouble of moving it. That is because stone is incredibly heavy and prone to breakage if it is accidentally dropped or suddenly jarred. Architectural fiberglass, on the other hand, boasts a strong weight to durability ratio. Not only will architectural fiberglass withstand substantial concussive force, it is also light enough to move if you ever want to redecorate. You might expect to trade longevity for these conveniences, but that simply isn't the case. Not only is GFRP weather-resistant, but it will not rot, delaminate or rust over time, making it the perfect material for prolonged exposure to the elements.
Stock or Custom, Stromberg Provides Value and Quality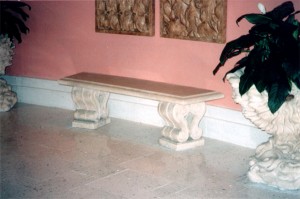 Whether you want to go rustic and simple, or elegant and ornate, Stromberg offers a wide variety of stock architectural fiberglass benches. These benches are perfect for interior or exterior use at pools, saunas, shopping plazas or even public parks. However, if you just can't find the right design, then you can work with the master craftsmen at Stromberg Architectural to custom design and build the perfect GFRP bench for your project. With a custom architectural fiberglass bench from Stromberg, you know that your garden, pool or place of business will stand out from the crowd.
Stromberg Architectural Fiberglass
GFRP is light-weight, low-maintenance and highly durable.
GFRP is affordable, and it is versatile to emulate more expensive building materials like marble, gold and granite.
Architectural fiberglass is extremely weather-resistant and can stand up to high winds, acid rain and even hurricanes.
Stromberg architectural fiberglass will not rot, corrode or delaminate over time.
Architectural fiberglass does not require specialists or experts to install.
Use Stromberg GFRP for your Next Project
The artisans at Stromberg Architectural Products will work closely with you throughout the process to make sure your finished architectural fiberglass exterior dome is made perfectly to your specifications.
Stromberg is here to help with CAD details, design assistance and specifications. Contact them today at (903)454-0904 for a free custom quote.
By: Rachel Curling