Detailed Cartouche in Architectural Fiberglass
Cartouche is a form of architectural detailing that dates back to ancient Egypt. Despite its antiquated roots, cartouche continues to be a popular design choice for many decorators and designers. Cartouche has evolved from the simple wall carvings of the ancient Egyptians into a modern, exotic sculptural art form. These elegant wall-sculptures can be installed on any wall or custom built into doorways, entryways or arches.
Stromberg Architectural Fiberglass Cartouche
The ancient Egyptians carved their cartouche into their sandstone walls and tablets, but today, cartouche is typically carved out of other materials like wood. Wood cartouche, however, is both fragile and heavy, making it difficult to install and always posing a risk for breaking. The Stromberg solution? Architectural fiberglass. Architectural fiberglass is light-weight, highly customizable and easy to install. Even better, it can be customized to imitate any building material from wood to ivory to stone.
Customize Your GFRP Cartouche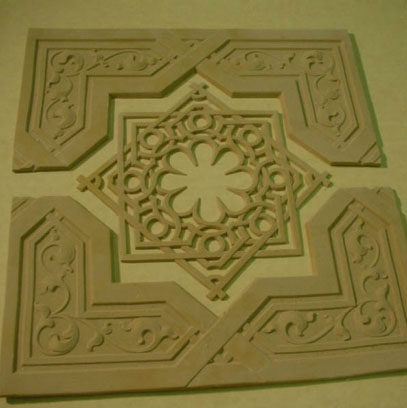 While Stromberg Architectural Products has a wide selection of beautiful, ready-made cartouche, you can also commission a custom design. These custom designs are totally unique, and can be commissioned exactly as you envision, or you can work with a specialized Stromberg artisan to come up with the perfect design for your custom cartouche.
Benefits of Stromberg Architectural Fiberglass
Architectural fiberglass cartouche can be customized to your artistic vision.
Architectural Fiberglass is extremely strong and durable, yet light-weight.
Stromberg architectural fiberglass is weather-resistant, and water-tight.
All designs are original, and guaranteed to draw people to your place of business.
Stromberg Takes the Next Step with You
The artisans at Stromberg Architectural Products will work closely with you throughout the process to make sure your finished architectural fiberglass cartouche is made perfectly to your specifications.
Stromberg is here to help with CAD details, design assistance and specifications. Contact them today at (903)454-0904 for a free custom quote.
By: Rachel Curling