Architectural Fiberglass Ceilings
A decorative ceiling is a marker of luxury, elegance and affluence. For this reason, many establishments choose to employ brutally pragmatic ceilings, the most infamous of which is the drop ceiling of drab office buildings and cheap bars. Stromberg does not deal in those kinds of ceilings. Stromberg deals with ceilings that make you want to crane your neck and stare at. Drawing inspiration from cathedrals, grand estates and fine hotels, architectural fiberglass ceilings from Stromberg put beautiful, stately ceilings within your reach.
Ceilings in Stromberg GFRP: Form and Function
A decorative ceiling, like any ceiling, has to fulfill the pragmatic function of a ceiling. It separates the exterior roofing from the interior room space. However, decorative ceilings fill the dual role of being both functional and attractive. Stromberg's decorative ceilings manage both. The architectural fiberglass is light-weight and easy to install, but it is also incredibly versatile and can be fabricated to imitate nearly any other building material. Marble domes, plaster frescos, tin paneling and opalescent stained glass are all well within the ability of GFRP's ability to emulate other materials. While churches, casinos, hotels and resorts are more likely to benefit from a decorative, architectural fiberglass ceiling, any building in need of some flighty affluence or overhead inspiration can enjoy the beauty of a decorative ceiling or ceiling element.
Pick and Choose Ceiling Elements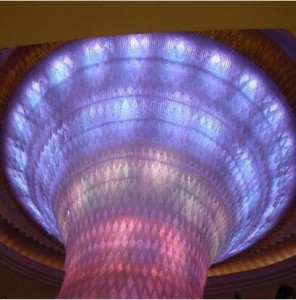 Stromberg Architectural Products offers a wide variety of diverse ceiling elements including interior domes, chandeliers, light coves and medallions. Pick and choose from these different ceiling elements to create elegant ballrooms, stately lobbies and world class foyers. While there is a huge selection of stock designs to choose from, Stromberg also affords you the freedom to custom-design any ceiling element. Whether you have been inspired by something you have seen in reality or your dreams, the experts at Stromberg can accommodate your design ideas. Build the ceiling of your dreams while working closely with one of Stromberg's masterful GFRP artisans to fabricate an entirely unique ceiling design that is sure to impress and inspire.
Features and Benefits of Architectural Fiberglass
Architectural fiberglass can imitate any building material such as marble, granite, clay or brick.
GFRP from Stromberg is light-weight, but remarkably durable.
Architectural fiberglass entablatures are resistant to corrosion and water damage.
GFRP entablatures will not rust, rot or delaminate over time.
Raise the Roof with Stromberg
Whether you are constructing a new building or renovating an old one, the skilled craftsmen (and women) at Stromberg Architectural Products will work closely with you throughout the process to make sure your finished architectural fiberglass ceilings are the perfect match for your project.
Stromberg's team of experts will assist with CAD and design details and all specifications. Contact them today at (903)454-0904 for a free custom quote, and put their 30 years of experience to work for you.
By: Rachel Curling