Architectural Fiberglass Niches
Though often overlooked, one of the signature architectural features of the Italian renaissance was the wall niche. This simple note provides space to display art without cluttering a hall or room while protecting sculptures and other artworks from immediate contact with guests or patrons. Niches can be used to house sculptures, vases, urns or even sconces for someone with a truly dramatic flair. Circle, square or rectangular, niches come in many sizes and shapes, but it is the object which they house that truly takes center stage. Nonetheless, just as you must choose the proper frame for a painting, so too must you pick a suitable niche for your artwork.
Frame Your Prized Possessions with GFRP Niches
When choosing a niche, it is important to know what it is going to house. Elegant paintings need elegant frames, and elegant sculptures need elegant niches. Likewise, conceptual or modern art should be framed within a niche that does not clash with the design of the artwork it houses. Stromberg provides a wide selection of architectural fiberglass niches ranging from the very simple, to more ornate and decorative. Although square and rectangular niches are most common, Stromberg can customize your niches to any specs you like. Circular, ovular, pentagonal, even abstract shapes are all possible. You can choose to leave the niche plain, or you can add additional designs, patterns and decorations. Like the niche's shape, if you can't find a design that you like, then you can work with one of Stromberg's master craftsmen to create an entirely new pattern or design that is uniquely suited to your niche.
Architectural Fiberglass Niches Are Built to Last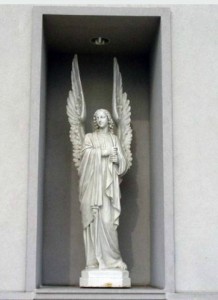 No matter what you choose to place within your architectural fiberglass niches, you can be sure that the niches will not only look good for years, but they will protect the sculpture, vase, urn or whatever else you choose to place within it. That is because architectural fiberglass is an extremely durable material that can stand up to the harshest elements while requiring very little maintenance. Niches that are placed outside will endure even the most extreme weather like hurricanes and acid rain. They can withstand concussive force, corrosives and even vandal marks. Additionally, architectural fiberglass is water tight, and will not delaminate or crack in extremely high or low temperatures. No matter what you choose to show off within your niche from Stromberg Architectural Products, you can rest easy knowing that the niche will be the least of your worries.
Features and Benefits of Architectural Fiberglass
Architectural fiberglass can imitate any building material such as marble, granite, clay or brick.
GFRP niches are resistant to even the most extreme weather.
Decorative or plain, architectural fiberglass niches can be customized to your tastes.
Architectural fiberglass niches require little maintenance, and can be easily cleaned.
Stromberg is Here to Help
No matter how big or how small your architectural project may be, the skilled artisans at Stromberg Architectural Products will work closely with you throughout the process to make sure your finished architectural fiberglass niche is the perfect match for your project.
Stromberg's team of experts will assist with CAD and design details and all specifications. Contact them today at (903)454-0904 for a free custom quote, and put their 30 years of experience to work for you.
By: Rachel Curling