Architectural Fiberglass Pedestals
Pedestals represent one of the most distinguished methods of displaying a treasured object. Indeed, pedestals are so well suited to this task, they have their own idiomatic expression in English – to put something on a pedestal is to glamorize, glorify and, in some cases, deify that thing. Displaying objects on pedestals separates and distinguishes them from the other items in a room, hallway or garden. However, while the item on display will surely receive most of the attention, it is important to consider the pedestal itself, for different pedestal aesthetics can affect the way the displayed object is perceived. Stromberg offers an array of stock pedestal designs, but if you cannot find the perfect pedestal for your project, you can custom design a totally unique model.
Take Pride in your Pedestal with Architectural Fiberglass
Architectural fiberglass pedestals offer many benefits over traditional stone, wood or concrete pedestals. One of the core issues with any pedestal is that they are top heavy, and easily knocked over if disturbed. While this has been the focus of many slapstick gags, it is far more expensive than it is funny when it happens in reality. Architectural fiberglass pedestals can be secured to the floor via a hidden fixture system of your choosing, thus ensuring that your pedestal will not topple if disturbed. Additionally, since architectural fiberglass requires much less maintenance and upkeep than other materials, you will not have to disturb your valuable art as frequently in order to clean or paint your pedestal. Secure your peace of mind with Stromberg's GFRP pedestals.
Stock or Custom, GFRP Pedestals Impress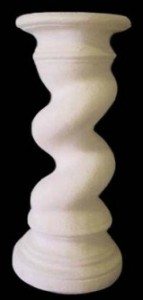 Choosing the right pedestal is just as important as choosing the right window drapes or carpet; design is everything. A flowery, ornate pedestal, for instance, would seem out of place in a clean, modern space. Likewise, a straight, Spartan pedestal might not suit a more regal, lavish room. Similarly, the pedestal must compliment the object which is placed upon it without detracting from the object itself. This delicate balance is something in which Stromberg has invested a great deal of time to get right. The diverse, stock designs available from Stromberg should provide a solution to nearly any pedestal quandary, but in the event they do not, you can choose to custom-design a totally unique pedestal. When you choose to place a custom order, you will work closely with the master craftsmen and women at Stromberg Architectural to design a one of a kind GFRP pedestal that is uniquely suited to your project. All you have to do is come up with the concept, and their artisans will bring your ideas to life.
Features and Benefits of Architectural Fiberglass
Architectural fiberglass can imitate any building material such as marble, granite, gold or wood.
GFRP pedestals are resistant to even the most extreme weather.
Architectural fiberglass pedestals can be customized to your unique tastes.
GFRP pedestals can be secured to the ground to ensure the stability of your pedestal.
Stromberg Satisfies with Service and Ingenuity
No matter how big or how small your architectural project may be, the skilled artisans at Stromberg Architectural Products will work closely with you throughout the process to make sure your finished architectural fiberglass pedestal is the perfect match for your project.
Stromberg's team of experts will assist with CAD and design details and all specifications. Contact them today at (903)454-0904 for a free custom quote, and put their 30 years of experience to work for you.
By: Rachel Curling