Fireplaces in GFRP
What is a home without a hearth? The fireplace plays an important role as the metaphorical center of a house. Fireplaces encourage people to gather around and enjoy one another's company, but they can also be enjoyed quietly in private with a comfy chair and a good book. Once, every house had a fireplace and a chimney, but today, many houses and apartments are built without chimneys. Fortunately, the innovation of artificial fireplaces that burn natural gas instead of wood allow for fireplaces to be placed in buildings that could not otherwise accommodate this important architectural element. Stromberg Architectural Products offers a wide variety of GFRP fireplaces that provide a warm, cozy place for you and your guests to gather during the cold winter months.
GFRP Fireplaces Light Up a Room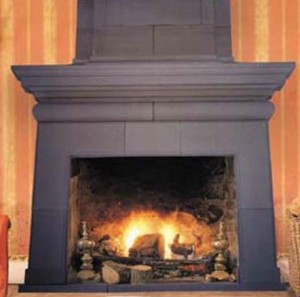 Easy to install architectural fiberglass fireplaces from Stromberg Architectural Products provide warm light and comforting, radiant heat. These beautifully crafted fireplaces can be custom built to fit nearly any room, and the attractive, sculpted facades will surely draw compliments and attention. Whether you are looking for a sleek, modern design or a more rustic, old fashioned aesthetic, Stromberg Architectural has the perfect GFRP fireplace for any motif. With dozens of stock designs to choose from, the hardest decision you will have to make will be picking your favorite. However, for the more specific customer, Stromberg Architectural Products allows you the freedom to custom-design your own architectural fiberglass fireplace. When you order a custom architectural fiberglass fireplace from Stromberg, you have the opportunity to work with one of their talented artisans to design the perfect fireplace with your exact specifications. Stock or custom, Stromberg's architectural fiberglass fireplaces will light up a room and warm your heart.
Durable Architectural Fiberglass Fireplaces at the Right Price
Like all of our architectural fiberglass products, our fireplaces are built to last. Our elaborately sculpted fireplaces may look delicate, but under the hood, they're all business. Architectural fiberglass can stand up to all sorts of punishment. From extreme heat to concussive force to harsh weather, architectural fiberglass can endure the worst of it without showing any flaws. Where stone or cement might chip, GFRP doesn't even scratch. Moreover, the light-weight nature of architectural fiberglass makes installation easy, and the price-point of the material makes our GFRP fireplaces significantly more affordable than the competition. Durability, affordability and attractive appearance make Stromberg Architectural Products' fireplaces a must-have.
Features and Benefits of Architectural Fiberglass
Architectural fiberglass can imitate any building material such as marble or granite.
GFRP fireplaces are resistant to high temperatures.
Architectural fiberglass fireplaces can be customized to your unique tastes.
GFRP fireplaces are attractive yet affordable.
Stromberg Satisfies with Service and Ingenuity
No matter how big or how small your architectural project may be, the skilled artisans at Stromberg Architectural Products will work closely with you throughout the process to make sure your finished architectural fiberglass fireplace is the perfect match for your project.
Stromberg's team of experts will assist with CAD and design details and all specifications. Contact them today at (903)454-0904 for a free custom quote, and put their 30 years of experience to work for you.
By: Rachel Curling