Architectural Fiberglass Animals
When you are working with kids, atmosphere is everything. Children pick up on visual cues almost immediately, and base much of their understanding of location off of the things that catch their eye or capture their imagination, and nothing does that quite like big, colorful animals. From hippos to giraffes, Stromberg Architectural Products offers a wide variety of safe and fun animal sculptures. Whether you are designing a kid friendly park where they can play, or a children's hospital where they can heal, these GFRP animals can lighten the mood of nearly any space by inspiring imagination and wonder in any child.
Architectural Fiberglass Animal Sculptures are Safe and Fun
Our architectural fiberglass animal sculptures can be colorful or muted, fanciful or realistic, but they're always safe. We understand that children are going to want to play with the sculptures. They will likely want to pet them or climb on them, and that's ok, because architectural fiberglass is non-abrasive, non-toxic, and it won't splinter. Of course, any kind of play should always be observed by a responsible adult, but with our GFRP animal sculptures, parents don't have to worry about splinters or rashes. Additionally, architectural fiberglass is a remarkably durable and easy to clean product, so even if the animals are scuffed or marked, they are easy to get looking just like new with little more than a washcloth.
Light-weight GFRP Animals are Convenient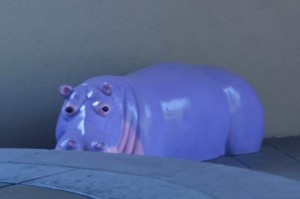 Sometimes a location will have more than one function. Parks might be rented out for weddings and museums might host fundraisers. Fortunately, GFRP is an amazing product that is as light-weight as it is durable. In the event that the animals are not suitable for a particular function or gathering, they can easily be temporarily moved to another location. Additionally, if you feel like changing the arrangement of the animal sculptures by swapping them around, this can also be done without much hassle. Unlike heavy stone or concrete sculptures that are meant to stay in one location, animal sculptures from Stromberg Architectural Products allow you the freedom to change your mind and reorganize your GFRP menagerie however you see fit.
Features and Benefits of Architectural Fiberglass
Custom-design any animal – real or fanciful.
GFRP is light-weight, and the sculptures are easy to relocate.
Architectural fiberglass animals require little maintenance, and can be easily cleaned.
Leave it to Stromberg
No matter how big or how small your architectural project may be, the skilled artisans at Stromberg Architectural Products will work closely with you throughout the process to make sure your finished architectural fiberglass animal is the perfect match for your project.
Stromberg's team of experts will assist with CAD and design details and all specifications. Contact them today at (903)454-0904 for a free custom quote, and put their 30 years of experience to work for you.
By: Rachel Curling