Architectural Fiberglass Pergolas
Romantic, poetic and picturesque, Pergolas represent the synergy between manmade structures and nature. The vines and columns work together to create a structure which is both wild and controlled simultaneously. Pergolas function somewhat like an entryway. They introduce different outdoor areas and can act as a transitional gateway between different styles of gardens, outdoor seating or patios. Romantic pergolas can act as an approach to a larger structure such as a house or restaurant, or they can stand alone and provide shade or even as a mere treat for the eyes. Stromberg Architectural Products offers a wide variety of architectural fiberglass pergolas that will look perfect in any garden, front lawn or park.
GFRP Pergolas are Romantic yet Durable
The beauty of our architectural fiberglass pergolas detracts nothing from the durability of these structures. Architectural fiberglass, or GFRP, is an incredibly durable material that can stand up to the harshest weather in any region. Even in the harshest winters or sweltering summers, our GFRP columns will not crack, delaminate or fade. Our architectural fiberglass pergolas are resistant to common corrosive elements like acid rain and smog, and are barely affected by impacts that would chip, scrape or shatter other materials. In fact, architectural fiberglass pergolas from Stromberg are so strong, they are capable of withstanding hurricane force winds that would obliterate other structures. These pergolas may appear whimsical, but under the hood, they are virtually immutable.
Architectural Fiberglass Pergolas Are Fully Customizable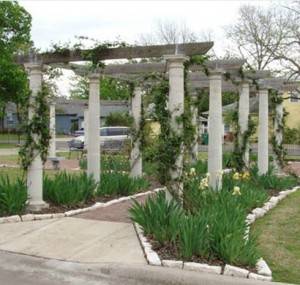 In addition to its durability, architectural fiberglass provides designers the freedom to completely customize the appearance of their pergola. Architectural fiberglass is such a versatile compound that it can be manipulated to emulate virtually any building material. Marble, granite, sandstone? Easy. Wood? Brick? Not a problem. The master craftsmen at Stromberg Architectural Products can customize your GFRP pergola to appear to be built out of any material you could hope for. Additionally, while we offer a wide variety of stock designs, you can also choose to work with one of our artisans to custom-design your pergola from the ground up. With Stromberg Architectural Products, if you can dream it, we can build it.
Features and Benefits of Architectural Fiberglass
Custom-design your pergola in any style out of virtually any material.
GFRP is durable and resistant to all of the hazards associated with the elements.
Our beautiful designs provide both style and substance at an affordable price.
Stromberg Has You Covered
No matter how big or how small your architectural project may be, the skilled artisans at Stromberg Architectural Products will work closely with you throughout the process to make sure your finished architectural fiberglass pergola is the perfect match for your project.
Stromberg's team of experts will assist with CAD and design details and all specifications. Contact them today at (903)454-0904 for a free custom quote, and put their 30 years of experience to work for you.
By: Rachel Curling