Memorial Benches in Stromberg Architectural Fiberglass
A memorial bench offers more than a place to sit, it offers a shared perspective. When you sit on a memorial bench, you imagine what the person to whom the bench was dedicated saw from that vantage point, and you wonder what was so significant about that location. Sometimes there is an answer, and sometimes there isn't, but either way, you are actively remembering the person's life and achievements. Such timeless, simple public furniture provides welcome respite to the weary, while also enhancing the visual beauty of the scenery. Stromberg Architectural Products offers a wide variety of memorial benches made from architectural fiberglass, or GFRP, which look just like stone, but at a fraction of the cost and weight.
Honor a Lifetime of Achievement with a Memorial Bench in GFRP
Achievement should be recognized and honored. While it is always important to actively respect and remember the service and accomplishments of honored members of our society, it is also a thoughtful gesture to designate some kind of memorial. Memorial benches are a humble, yet considerate way to honor a person's accomplishments. Benches can be placed anywhere that is somehow special to the memorialized individual. Gardens, parks, walking trails or college campus quadrangles are all great places to install a timeless, architectural fiberglass memorial bench.
Stock or Custom, Stromberg Provides Value and Quality in GFRP Memorial Benches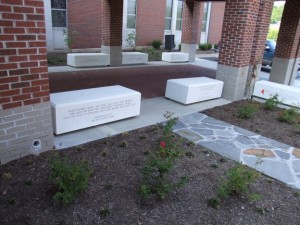 Whether you want to go rustic and simple, or elegant and ornate, Stromberg offers a wide variety of stock architectural fiberglass memorial benches. However, if you just can't find the right design, then you can work with the master craftsmen at Stromberg Architectural to custom design and build the perfect GFRP bench to more personally honor the memorialized individual. With a custom architectural fiberglass memorial bench from Stromberg, you know that the honored accomplishments of the memorialized will be remembered forever.
The Advantages of Stromberg Architectural Fiberglass
GFRP is light-weight, low-maintenance and highly durable.
GFRP is affordable, and it is versatile to emulate more expensive building materials like marble, gold and granite.
Architectural fiberglass is extremely weather-resistant and can stand up to high winds, acid rain and even hurricanes.
Stromberg architectural fiberglass will not rot, corrode or delaminate over time.
Architectural fiberglass does not require specialists or experts to install.
The Stromberg Architectural Promise
The craftsmen at Stromberg Architectural Products will work with you through the entire process to make sure that your finished Stromberg architectural fiberglass memorial bench is made to your project's specifications.
Stromberg is here to help with CAD details, design assistance and specifications. Contact them today at (903)454-0904 for a free custom quote.
By: Rachel Curling