Stromberg Simplifies Barrel Vaulting Renovation and Restoration
One of the telltale signatures of meeting halls, spiritual sanctuaries and other important buildings, barrel vaulting has been used for thousands of years to designate importance. The barrel vaulting we are most familiar with, however, comes from the gothic cathedrals of the 13th and 14th century. Grandiose in scale and lavish in decoration, gothic churches represent some of the most amazing barrel vaulting the world has ever seen. However, due to its height and inaccessibility, barrel vaulting is notoriously difficult to maintain. It is not uncommon for a barrel vaulted ceiling to fall into disrepair, which then requires expensive repairs. Fortunately, the master craftsmen at Stromberg Architectural Products have a solution: architectural fiberglass, or GFRP.
Making Barrel Vaulting Look Just Like New the Stromberg Way
Stromberg Architectural Products' secret to easy, inexpensive barrel vaulting renovation is architectural fiberglass. Architectural fiberglass, or GFRP, is a modern, light-weight building material that can achieve the same aesthetic results of stone barrel vaulting at a fraction of the weight and cost. Better still, Stromberg's architectural fiberglass barrel vaulting can be customized to fit any space with any style. Architectural fiberglass can emulate just about any other building material, and the pros at Stromberg can customize your barrel vaulting to accommodate any architectural aesthetics your church could desire. White marble or rough granite, Stromberg can provide the perfect fit for the perfect price.
Set it and Forget it, Stromberg Renovations and Restorations are Built to Last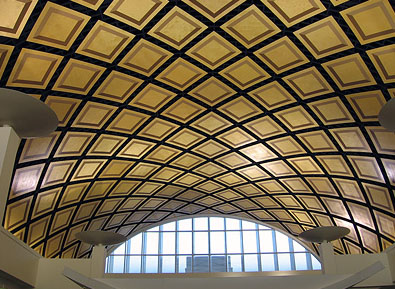 Due to the unique qualities of Stromberg's architectural fiberglass barrel vaulting, you won't have to worry about constantly climbing ladders for maintenance. Architectural fiberglass barrel vaulting is resistant to all manner of corrosives such as smog, wind, and even acid rain. More importantly, it has proven to be incredibly sturdy, and it will not crumble, rot or dissolve over time.
Benefits of Architectural Fiberglass:  Why Stromberg GFRP?
Stromberg GFRP has a very high strength to weight ratio.
GFRP is lightweight, which means faster installation, less structural framing, and lower shipping costs.
Architectural Fiberglass resists salt water, chemicals, and the environment, and is unaffected by acid rain, salts, and most chemicals.
Architectural Fiberglass is very versatile, and able to be molded into virtually any shape; even complex, intricate shapes.
GFRP is very low maintenance.  According to research, GFRP shows no loss of laminate properties after 30 years.
For More Information on Architectural Fiberglass
For more information on Architectural Fiberglass, visit Stromberg Architectural Products.  The experts at Stromberg will help you make your GFRP project a success.  We offer design assistance, specifications, and CAD details.  If you have questions about Stromberg FRP, the initial consultation is free.  Call us at (903) 454-0904. We are here to help.
By: Rachel Curling