Renovation and Restoration of Entryways with Architectural Fiberglass
Regardless of whether you are designing a hotel, a casino, a church or a courthouse, an entryway is a first impression. It sets the tone for the building, and provides visitors a sense of the space they are about to enter. However, since entryways see so much foot traffic, it is not unusual for them to suffer heavy wear and tear. Again, that wear reflects on the establishment that the entryway introduces, so it is critical to repair any damage inflicted to a building's entryway. Unfortunately, restoration and renovation of entryways can be extremely expensive, especially if the entryway is made from pricey materials like marble, cast iron or carved wood.
Turn Back Time on a Dime with GFRP
Stromberg Architectural makes entryway renovation and restoration simple. Masters of synthetic composites like GFRP, GFRC and GFRG, the experts at Stromberg provide a lasting, yet entirely invisible fix. Composites like architectural fiberglass are not only sturdy and durable, they can be customized to perfectly emulate nearly any building material. By the time they're done, you will never be able to tell that your pristine entryway was ever renovated or restored. More importantly, architectural fiberglass is comparably inexpensive when you consider the cost of hiring a traditional artisan stone-carver or metal worker.
Tough, Durable and Weather-resistant, Architectural Fiberglass is the Answer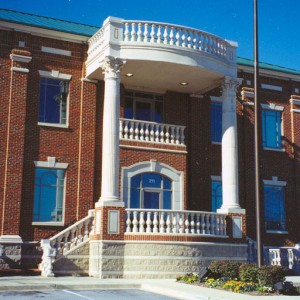 You might think that you would trade durability and strength for simplicity, but with architectural fiberglass entryway renovation and restoration , you can have it all. Architectural fiberglass is water-tight and weather-resistant. Moreover, it is extremely tough and will not corrode, rot or delaminate over time. Finally, architectural fiberglass can stand up to the toughest elements. Wind, acid rain, smog, architectural fiberglass is better suited to the hazards of exposure even in America's most densely populated cities.
Features and Benefits of Architectural Fiberglass
Architectural fiberglass is water-tight and weather-resistant.
Stromberg's expert craftsmen will oversee the restoration and renovation of your entryway.
Architectural fiberglass can stand up to the elements, and is resistant to corrosive agents like smog and acid rain.
Architectural fiberglass is extremely versatile, and can be customized to emulate virtually any building material.
Stromberg's synthetic composites have been approved for repairs by historic restoration experts.
The Stromberg Pledge to You
The artisans at Stromberg Architectural Products will work closely with you throughout the process to make sure your entryway is restored and renovated perfectly to your specifications.
Stromberg is here to help with CAD details, design assistance and specifications. Contact them today at (903)454-0904 for a free custom quote, and put their 30 years of experience to work for you.
By: Rachel Curling